A sure-fire place to cut the US defense budget
The US Department of Defense has said that the air-defense program known as MEADS will never be operational. Yet Defense Secretary Leon Panetta insists that Congress reinsert $400 million in the defense budget for the program. Amazingly, Congress is falling for his line.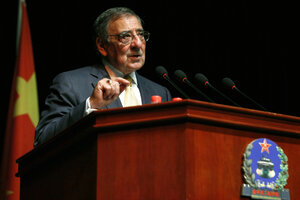 Larry Downing/AP/pool
It is the kind of bizarre Alice-in-Wonderland story that drives average Americans crazy. Confronted with the worst economic crisis since the Great Depression, the federal government has insisted on continuing to fund a defense program that will admittedly never be made operational.
Instead of recognizing the blindingly obvious, and ending this farcical story, Defense Secretary Leon Panetta has instead urged the Senate Appropriations Committee to reinsert $400 million in funding for the air-defense program known as MEADS (Medium Extended Air Defense System).
He wants to take advantage of research on the surveillance radar part of the program. He has also insisted that Italy and Germany – America's partners in creating this white elephant – will view the system's termination as "reneging on our promises," explaining that they will be less willing to work on joint projects with the United States in the future.
---