In quest for jobs, Fed chair Bernanke's money spigot hurts economy in long run
US unemployment fell to 7.8 percent (a possible boon to President Obama, whose economic leadership Mitt Romney criticizes). But job growth remains slow. Fed Chair Bernanke's quantitative easing policies aim to boost the economy, but they will more likely spur inflation and capital flight.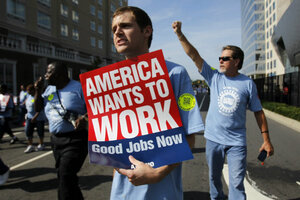 Jessica Rinaldi/Reuters/File
The Bureau of Labor Statistics reported today that the US unemployment rate fell to 7.8 percent, but job growth remains sluggish. (The economy only added 114,000 new jobs last month.) The Federal Reserve has been trying to remedy this slow growth, but its policies may be doing more harm than good in the long-run.
"We want to see more jobs." With that statement last month, Federal Reserve Chairman Ben Bernanke launched yet another round of "quantitative easing" (QE3) – a program of pumping new money into the financial system with the aim of driving down interest rates and incentivizing businesses to grow and hire.
The move is not surprising. In his extensive writing on the failures of the Fed during the Great Depression, Mr. Bernanke criticizes it for increasing interest rates in the mid-1930s – triggering a recession just as the economy was beginning to recover. If we were in the same pickle today, one could defend the Fed's efforts to keep rates artificially low. However, the current financial crisis is quite different.
High interest rates played a significant role in laying the groundwork for the Great Depression. As such, efforts to lower them may have mitigated the hit our economy took in the '30s. When our recent crisis hit, however, interest rates were already artificially low. Further lowering them only exacerbates the risk of triggering capital flight.
---