Obama must stand up to Netanyahu on Israeli settler violence
The US State Department recent called Israeli settler violence against Palestinians 'terrorist incidents.' Though a step in the right direction, the label fails to highlight the Israeli government's responsibility for these human rights violations. Washington must take a bold stand.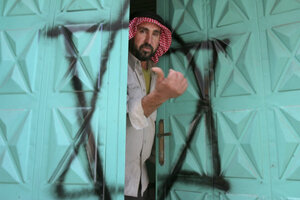 Nasser Ishtayeh/AP/file
My Palestinian driver had reason to worry as we passed near the Israeli settlement Yitzhar in the West Bank. The settlement is notorious for frequent attacks on nearby Palestinian citizens. Only a month earlier, my driver had himself been attacked by a group of settlers with a big rock that barely missed his car. Two miles farther up the road, he reported the attack to an Israeli Army patrol that was in the area. The patrol commander asked if anyone in the car had been injured. "No," the driver had said. "Then you can go, no problem if no one was hurt," the Army personnel replied.
While my driver was lucky to escape the attack unscathed, others have been less fortunate. Returning to their Bethlehem home in August, the Ghayatha family was attacked by settlers who hurled a firebomb at their taxi. Ayman Ghayatha, his wife, their three children, and the taxi driver were all severely injured. "The United States condemns in the strongest possible terms yesterday's attack on a Palestinian taxi in the West Bank," said State Department spokesperson Victoria Nuland. Subsequently, violent attacks by Jewish settlers against "Palestinian residents, property and places of worship" were cited for the first time in the US State Department Country Report on Terrorism as "terrorist incidents."
---