R.I.P. town-hall presidential debates
In Tuesday's presidential debate moderated by Candy Crowley, both candidates focused more on delivering their prepared quips and the equality of timekeeping than directly answering voters' questions. The town-hall debate has not lived up to its promise. It is time to try a fresh format.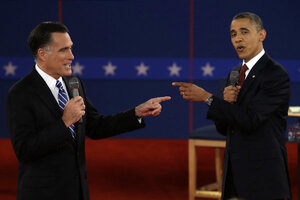 Charlie Neibergall/AP
Democrats claimed an Obama victory in the presidential debate Tuesday night. Republicans thought Mitt Romney held his own. The true loser was the American public.
Twenty years ago, the first town-hall presidential debate premiered at the University of Richmond. Undecided voters assembled on stage to ask questions of candidates George H.W. Bush, Bill Clinton, and Ross Perot. Tuesday night, President Obama and Mr. Romney had their turn to interact with a similar audience and field voter questions in the second presidential debate, this one moderated by CNN's Candy Crowley.
The town-hall format was introduced to provide contrast with the more formal debates, to include everyday voters in the process, and to add spontaneity. But like so many things that are far better in theory than in practice, the town hall-format began with great intentions but has not lived up to the promise. After two decades of this experiment, it is time to try a fresh format.
---