Beyond the 'fiscal cliff,' America's kids need more – not less – government spending
As the 'fiscal cliff' approaches, John Boehner and other lawmakers should beware of another kind of deficit – the growing opportunity deficit for low-income US children, already present by the time they enter kindergarten. Government can help with universal childcare and preschool.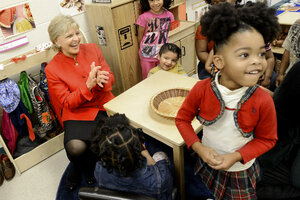 Bernard Thomas/The Herald-Sun/AP
If President Obama, John Boehner, and House Republicans are unable to reach a deal to avoid the "fiscal cliff," automatic spending cuts will cause states to lose an estimated $7.5 billion in federal funding for more than 100 grant programs, many of which are vital to low-income communities. Even if Washington averts the precipice, these programs face likely reductions in federal spending as part of an eventual budget deal. But lawmakers who want to preserve the "land of opportunity" by unsaddling future generations from debt should think twice about such cuts.
Once a world leader in equal opportunity, America now ranks behind many other affluent countries. Among adults aged 25 to 45 in 2000-2008, just 30 percent of those born into a family in the bottom fifth of incomes had reached the middle fifth of incomes or higher, whereas 80 percent of those born into the top fifth of earners had done so. That gap looks set to grow even larger, as differences in test scores and college graduation between children from low-income versus high-income homes have been rising since the 1970s.
We have, in short, a significant opportunity deficit for Americans who grow up in low-income families. And it's getting worse. Like it or not, a real solution will require more – not less – smart spending by government.
A host of social and economic shifts have contributed to the trend toward unequal opportunity. Children who grow up in a home with both of their biological parents are more likely to stay in school, avoid prison, and earn more in adulthood. The share of poorer children who grow up with both parents has fallen in the past several decades, while there has been far less change in family structure for those with higher incomes.
---