Next time, US Senate should ratify UN disabilities treaty
Last week, the US Senate voted down the UN disabilities treaty, despite a push from former GOP Senate Majority leader, Bob Dole. Critics say the treaty weakens parental rights and violates US sovereignty. Not so, and eight Republicans who crossed over to ratify, know that.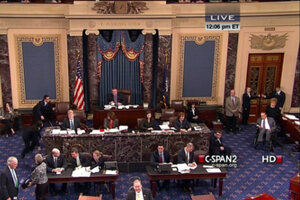 AP/CSPAN2
Former Sen. Bob Dole paid a call on Congress last week, hoping to lobby his colleagues on behalf of the United Nations disabilities treaty.
The former Republican majority leader, a disabled veteran and now 89, made his visit in a wheelchair. Colleagues came up to greet him – and then they turned and voted down the treaty.
Most Americans have probably never heard of the Convention on the Rights of Persons with Disabilities, an international agreement that aimed to "promote, protect and ensure the full and equal enjoyment of all human rights and fundamental freedoms by all persons with disabilities." With 61 for and 38 against, the vote fell just five shy of the 66 required for ratification. The vote looked close – but the numbers belie the intensity of the conservative opposition.
A small community has worked hard to mobilize opposition to US ratification. Just hours after the vote, the website of the Home School Legal Defense Association ran a banner that said "Thank You for Supporting Freedom. Your calls prevented ratification of the UN CRPD," the treaty's acronym. One of its outlandish criticisms is that ratification would require abortion on demand.
Phyllis Schlafly's conservative Eagle Forum exhorted people to "keep the calls coming" to urge senators to vote against the treaty. These organizations insisted that ratification would weaken the rights of parents to raise their children and violate US sovereignty by allowing the UN to run roughshod over the rights of individual states to determine their own policies.
---