In 2013, nothing more important than protecting hopes for democracy
The world faces serious issues in 2013, including debt and climate change. But nothing is more important to international stability and human progress than the aspirations of people upending authoritarian rule in pursuit of self-government. A look at three cases: Egypt, Myanmar, Malawi.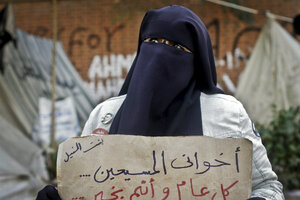 Amr Nabil/AP
Across the range of international concerns today the one common theme is urgency. Debt. Climate change. The spread of nuclear weapons. These are all serious issues requiring earnest, immediate responses. Yet nothing will be more important to international stability and human progress in 2013 than advancing the aspirations of people who are upending authoritarian rule in the pursuit of self-government and a fair shot at success.
From the Middle East to Asia to Africa to Latin America, people of diverse cultural and religious backgrounds are agitating for change. Although democratization has been going on almost constantly since the end of the cold war, the stakes are different today for three reasons.
First, the greater Middle East is faced with burgeoning youth populations and complex regional tensions. Emerging democracies there have little margin for error.
Second, transnational terrorism and insurgency warfare have altered the security conditions in many of the places where democracy is budding – endangering new freedoms and posing an international security threat.
Third, the past three decades of democratization have brought many valuable lessons, but they have also raised expectations.
People do not just wake up one morning as democrats. The norms and practices of democracy, the understanding of rights and how to both act on and protect them, must be cultivated across society. That mainly involves the patient growing of trust between the governing and the governed – a trust that's rooted in good democratic soil (a representative constitution, a free media, a fair court system, etc.) and watered with a continuous, wide stream of public input.
---