Outrage over India gang rape shows the power of human dignity
The gang rape and death of a young woman in India has ignited outrage at sexual violence against women and girls in India and at corrupt police. Reactions to dehumanization and humiliation can spur movements for political and social change, as seen in Egypt and Tunisia.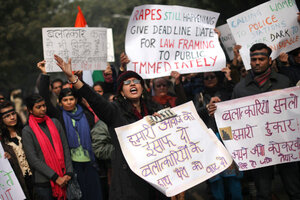 Altaf Qadri/AP
I was in India last month when the brutal gang rape of a university student on a bus ignited protests by thousands of young women and men in New Delhi and other cities in India. The "heinous crime" – the term used by India's Prime Minister Manmohan Singh – has become a rallying point for citizen outrage at the pervasiveness of sexual violence against women and girls in India and at unaccountable and corrupt policing.
Protesters' signs cite statistics that rape occurs every 22 minutes in India and call for the gang-rape culprits to be hanged. Despite several clashes with police and despite government efforts to shut down public transportation, the angry and surprisingly persistent protests continue. Following the woman's death from her injuries, citizens held vigils and marches in many parts of the country.
The events in New Delhi attest to writer Thomas Friedman's observation that "humiliation is the most underestimated force in international relations and in human relations." Rape is one of the most extreme acts of dehumanization and humiliation. Statements by protesters indicate that outrage about the gang rape and the environment that enabled it has unleashed a flood of pent-up frustration.
Citizens are angry about poor public safety for women and girls, police harassment, and a justice system that many perceive as devaluing individuals, especially those without money or power.
---