Why Evangelicals are the new partners for immigration reform
Advocates for immigration reform should seek support from an unlikely source – evangelical Christians. Their political agenda is broadening as Hispanic congregants – documented and undocumented – increase and pastors speak of immigration as a religious concern.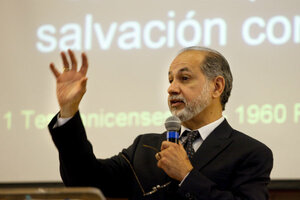 Melanie Stetson Freeman/The Christian Science Monitor
Most Congress-watchers have low expectations for America's legislative branch over the next two years, and with good reason. The 2012 election again showed a divided electorate, and political stalemate and partisan rancor abound in Washington.
Despite this difficult climate, political support is rapidly building in favor of legislation that has confounded presidents and Congresses since 1986: comprehensive immigration reform. Advocates trying to build a winning coalition for reform should seek support from an unlikely source – evangelical Christians.
Evangelicals have been a key Republican voting bloc for several decades. According to exit polls, about 1 in 4 voters in November's election was a white Evangelical, and they voted overwhelmingly Republican.
Although most Americans associate theologically conservative Christians with cultural issues such as abortion and gay marriage, the evangelical political agenda is broadening. Immigration reform is one issue that has steadily gained momentum.
What might account for this change?
For one, pastors and religious leaders are talking more about the issue as a religious concern. Many scriptural passages relate to immigration – including the famous 40-year wilderness journey of the children of Israel to the Promised Land. But most evangelical churches and organizations have only recently begun to underscore the biblical connection to immigration.
New pro-immigrant movements are seeking to educate and activate evangelical clergy and voters by emphasizing themes of love, justice, and welcome for the stranger that resound throughout the Hebrew Bible and New Testament.
---