What legal education could do for a resilient Afghanistan
Americans need a more complex, realistic picture of Afghanistan. Such a picture shows that US efforts to support education and the development of Afghan civil society should not be abandoned. It also shows that these initiatives may require patience and persistence.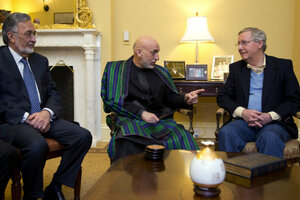 Manuel Balce Ceneta/AP
As Afghanistan's President Hamid Karzai meets with President Obama in Washington this week, and the Senate prepares to consider Mr. Obama's nomination of Chuck Hagel for Secretary of Defense, now seems like an apt time for reflection on the US strategy in Afghanistan. In particular, what does America's approach to Afghanistan's educational needs reveal about its long-term goals for the country?
Last fall, in a brief and unceremonious election, I became the co-director of a small group – the Afghanistan Legal Education Project– at Stanford Law School. Our organization works with academics in Kabul to write law textbooks for young Afghans.
Early visions of prestige notwithstanding, I've learned by now that my duties are mostly administrative – editing, scheduling, sending cajoling emails. But for all that the job lacks in diplomatic glamour, it comes with an unusual perk. Each week, I host a Skype call with our American teaching fellow in Kabul. Over time, her insight has come to serve as a healthy source of perspective: a sense that Afghanistan is more sophisticated – and resilient – than many pundits and politicians suggest. America's approach to its future should be, too.
Jenn Round is our longest serving teaching fellow, and she's been reporting back from Kabul for more than 18 months. When our weekly calls began, she and I mostly stuck to discussing the project. Now, however, when there is little textbook business to discuss, we fill the time with other topics.
---