How to keep talented teachers from leaving
New teachers face high-pressure demands, with little support, such that more than half leave the profession within the first five years. These teachers need to see opportunities for career advancement, better compensation, and meaningful evaluation and professional development.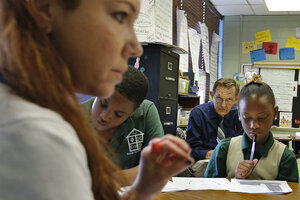 Ted Jackson/The Times-Picayune/AP
Imagine a profession whose influence on individual lives is more significant than that of nearly any other occupation, whose role in society is universally acknowledged to be among the most critical to the future, and whose practitioners are often described as "heroic," "beloved," and "admired." Now imagine that this profession cannot recruit and retain the best people because it is seen by many as a dead end, neither financially remunerative nor socially and creatively fulfilling.
This destructive paradox describes the profession of teaching in the United States.
Soon the education priorities for President Obama's second administration will begin to take shape. They will no doubt include, as they did during his first term, recruiting and retaining strong teachers who can prepare young people for the contemporary workforce. They should also include renewing our national commitment to teaching as a profession of status and a life of consequence.
We recently conducted a study for the Woodrow Wilson National Fellowship Foundation, which is working to recruit and prepare teachers. We interviewed new teachers, former teachers, scholars, and education leaders, probing to learn why so many talented people who see teaching as a vocation do not last long in the job.
The clear finding that emerged: Many new teachers in the United States are committed to values that extend beyond expediency, narrow self-interest, and the present moment. These are precisely the kind of people who can help young people learn, not just how to make a living, but how to live and what to live for.
But the system almost forces these new teachers toward other occupations.
Talented, idealistic young teachers reminded us how draining it is to be in the classroom, particularly in high-need schools. "It's just heavy emotional labor," one teacher told us of her work with dropouts who had come back to school. Some teachers have coaching to get through the tough moments, but too many don't. Even the best can burn out.
---