President Obama's Israel visit highlights common goals and a rare friendship
President Obama will be welcomed in Israel today by a spirit of friendship built on shared values, opposition to a pursuit of nuclear weapons by Iran, and commitment to a peaceful solution with the Palestinians. Such cooperation is not common in the Middle East.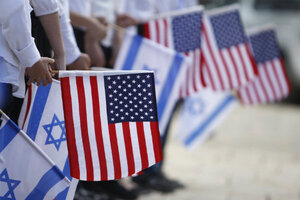 Baz Ratner/Reuters
On Israel's Independence Day some homes in Jerusalem, Tel Aviv, and other Israeli cities and towns sport two flags waving in the breeze. One, of course, is that of the State of Israel. It has also become a custom for some Israelis to fly the flag of the United States beside that of Israel on this important holiday. Today, it is not unusual for Israelis to adorn their cars with these two symbols as well.
These examples, along with many others I could offer, demonstrate the deep affection that Israelis have for the US. This is not just a matter of geopolitical interest, but a relationship based on common cultures, values, and worldviews between two countries built on core principles of freedom, democracy, and respect for human rights. These common ideals are felt and embraced by the people of Israel every day.
It is this spirit of warmth that President Obama will experience during his visit to the State of Israel. While some might point to past differences of opinion between US and Israeli administrations, such differences cannot overshadow the long history of cooperation and mutual admiration between Israel and the United States.
---