Why it's no longer the chummy 1990s for Turkey, Israel
President Obama and Secretary of State John Kerry are working hard to repair relations between Turkey and Israel. They deserve credit for their efforts. But much has changed for both countries since they cooperated in the 1990s, and progress toward rapprochement will likely be slow.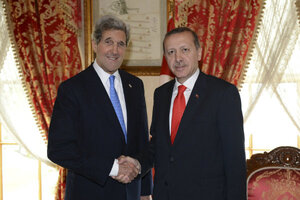 Kayhan Ozer/Turkish Prime Minister's Press Office/Reuters
Good news from the Middle East is worth savoring these days, so President Obama is entitled to take a bow for helping ease the long strain in relations between Israel and Turkey. Furthering that progress was high on Secretary of State John Kerry's agenda, as he visited Turkey on Sunday and then flew on to Israel.
But let's not get carried away. The to-do list for renewed cooperation is long: Syria, the Middle East peace process, and the general uncertainty created by the Arab Spring. Much separates these two countries that once shared a strategic closeness so needed in this troubled region.
Certainly Mr. Obama recognizes the need for rapprochement. As he was leaving Israel late last month, he helped broker an apology from Israeli Prime Minister Benjamin Netanyahu to Turkish Prime Minister Recep Tayyip Erdogan for the death of nine Turkish citizens killed in an Israeli commando raid on a Turkish ship bound for the Gaza Strip in May 2010.
---