Thinking through options on North Korea
As history shows, new nuclear states such as North Korea usually probe the limits of their power and test how other international actors respond. But consider this: Once escalation starts, it can be extremely difficult to control.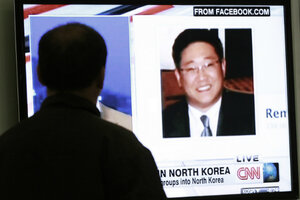 Ahn Young-joon/AP
North Korea has captured global attention with its provocative behavior in recent months, the latest being this week's sentencing of US citizen and tour leader Kenneth Bae to 15 years of hard labor. Secretary of State John Kerry, during a recent visit to Seoul, vowed that "the United States will, if needed, defend our allies and defend ourselves."
But after issuing threats, conducting nuclear tests, and launching missiles, what will North Korean leader Kim Jong Un do next? The escalating tension on the Korean Peninsula is again prompting analysts to ponder North Korea's next big move, how the United States and its allies would respond, and what Pyongyang might do after that.
Predicting the next move of an adversary like North Korea is difficult to say the least, and thinking several moves out is even harder. One tool to help decisionmakers think through the options is a strategic "war game" where expert "players" are confronted with a future crisis based upon historical facts and projected enemy military capabilities.
---