Syria's future tied to freedom for captured Christian leaders
Turkey and the US State Department must make the release of two captured Christian archbishops in Syria a top priority. At stake are not just their lives, or even the fate of Syrian Christians, but the fate of any hope of tolerance and pluralism in a post-Assad Syria – and the region as a whole.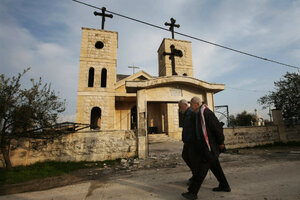 Hussein Malla/AP/File
The war in Syria, which began in April 2011 with peaceful protests against the oppressive regime of Syrian President Bashar al-Assad, is no longer just a struggle between opposition forces and the government. It has now also become a religious, sectarian civil war.
Among those caught in the crossfire are Syria's Christians, who were estimated to number 2.5 million, or roughly 10 percent of Syria's population prior to the conflict. On April 22, two Syriac Christian archbishops were captured and another leader was killed in an attack by extremist fighters. We have joined a bipartisan group of our colleagues in Congress in urging the Department of State to make the freeing of the archbishops an urgent priority. We also call on Turkish Prime Minister Recep Tayyip Erdogan to use Turkey's good offices to help facilitate their timely release.
At stake are not just the lives of two religious men, or even the fate of the Syrian Christian community, but the fate of any hope of tolerance and pluralism in the Syrian endgame – and perhaps in the region as a whole.
The war in Syria is a humanitarian tragedy of epic proportions, not just for the Syrian people but for the entire Middle East and concerned peoples around the world. More than 70,000 Syrians have been killed, 4.25 million are internally displaced, 6.8 million are in need of assistance, and 1.3 million have registered as refugees in neighboring countries, according to the United Nations.
---