Obama's 'partnership of equals' in Africa: Both sides must step up
President Obama, who departs Africa today, has cast his mark on the US-Africa relationship by calling it 'a partnership of equals.' This is more of a goal than reality. Over the past decade the US has squandered its advantage. And Africans bear shared responsibility for economic stability.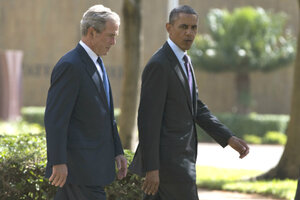 Evan Vucci/AP
Fifteen years ago President Clinton traveled across Africa hailing a "new partnership." President Bush followed five years later affirming a "close partnership." Now President Obama, who winds up his Africa trip today, has cast his own mark on the US-Africa relationship, calling it "a partnership of equals."
Rhetorically that befits a trip across Africa by the first US president of African descent. It has an appealing ring for African leaders wary of the strings attached to Western economic assistance and security priorities. But what does it really mean and how might it be realized?
Africa tours have become a diplomatic set piece of the modern American presidency. They have a feeling of being almost routine and prompted by moral obligation. Mr. Obama spent a mere 20 hours in sub-Saharan Africa during his first term in office. Four years later he returned on a six-day, three-country tour with only a modest set of boiler-plate initiatives – most of them extensions of policies started by his predecessors. He dismisses the need to compete with China for resources and market share on the continent.
Many Africans have felt snubbed by Obama. They expected him to make Africa a greater priority. President Clinton moved to open up US-Africa trade, and President Bush made a significant contribution with his program to combat AIDS. So for Obama to hold out the idea of a "partnership of equals" might justifiably leave Africans wondering.
To say that the United States and the states of Africa are equals is, by the numbers, nonsensical. Although six of the world's fastest growing economies are in Africa, the list of African woes remains frustratingly long.
African countries overwhelmingly populate the bottom rankings of Transparency International's annual Corruption Perceptions Index. Thirty-nine of 54 African nations are net food importers. Three quarters of all deployed international peacekeepers are in Africa. Average life-expectancy in sub-Saharan Africa is 52 years. Human rights, democracy, and the rule of law have only toe-holds in many African nations.
---