Speaker Boehner up at bat with immigration reform
After the Senate passed a comprehensive immigration reform bill, House Speaker John Boehner is now at bat. Whether to swing is an incredibly tough call for him. Politically, the issue pits the long-term interests of the Republican Party against the short-term interests of its House members.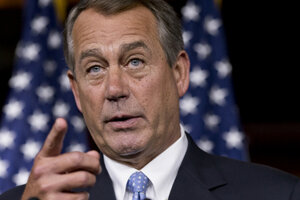 J. Scott Applewhite/AP/file
House Speaker John Boehner is probably not looking forward to taking up immigration reform as Congress returns from its July 4 recess today.
On the merits, the issue is a mind-bender. Millions of people – and nobody knows exactly how many – have come to the United States without papers. Some arrived as infants and know no other country. Others immigrated as adults and have forged deep ties to the US through work and family. Deporting them all would entail daunting economic and moral costs. But giving them legal status might encourage even more illegal immigration by implying approval of law-breaking. And doing nothing would condemn them to a life sentence in a shadow economy.
For the speaker, the political calculus for his Republican majority is just as tough.
Immigration pits the long-term interests of the party against the short-term interests of many of its House members. In the long term, the GOP needs a good share of the burgeoning Hispanic vote in order to survive. If you're a Republican House member, however, you aren't worrying much about the future political needs of other members of your party. You're worrying about the next election in your own district. Right now, most House Republicans do not have large Hispanic constituencies, but they all have to think about potential primary challenges. Republican primary voters tend to be deeply skeptical about comprehensive immigration reform, so the political incentives favor a hard line.
---