Don't view Egypt's coup with a Western lens
Some American analysts welcomed the ouster of Egypt's democratically elected president because it removed a political Islamist and opened the way for secularists. This Western thinking endangers democracy in Egypt. Integrating Islamists into politics is essential in the Arab world.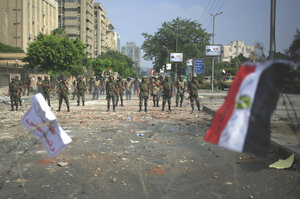 Khalil Hamra/AP
A chorus of liberal US foreign policy voices welcomed the July 3 ouster of Egypt's first democratically elected president, Mohamed Morsi. This was a "good military coup" that American liberals should support, they argued, because it was done in the name of the people, it advances progressive values, and most importantly, it removes political Islamists from power and opens the door for Egyptian secularists.
These arguments bring to mind a famous line attributed to a US major in Vietnam: "It became necessary to destroy the town [in order] to save it." Their assumptions and reasoning do not stand up to critical scrutiny.
This coup marks a colossal setback for the prospects for a democratic Egypt. An intractable and unaccountable military has returned to the center of politics, a fact that makes the American voices cheering Morsi's ouster all the more astounding. Such approbation, however, reflects a deeper Western philosophical problem: namely, how to think about the development of democracy in Muslim societies.
This philosophical problem is both historical and cultural, and it has contaminated intellectual debate in the West on Muslim societies for centuries. It is fundamentally a problem of enduring Euro-centrism; a reluctance to understand the Islamic world through the prism of its own historical experience instead of the Western one. The essential questions are: Can we think differently about the relationship between religion and political development? Are there alternative paths to modernity whereby Islamist groups can effectively contribute to democratization?
The challenge of democracy in Muslim societies cannot be comprehended by using the same interpretative framework routinely used to assess US politics. Americans should be wary of comparing – and then judging – developed societies with those in the developing world.
---