Back to School Night? Let's talk about your child's wedding
At Back to School Night, I'm going to ask parents to use a different lens to view their children's education. Instead of looking ahead to college or a job, I'll ask them to look back from their child's wedding. What qualities should their children express then? How do we shape those now?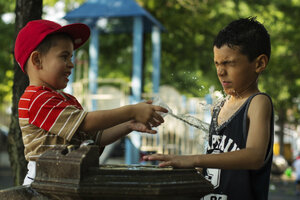 Lucas Jackson/Reuters/file
Just outside my principal's window, the faces of the future are at play. There is fresh sand in the sandbox, and new sandbox players wriggle in their bright sneakers. I cherish all the hopeful possibilities of their giggles, and the learning from their squabbles. The life of the sandbox seems halcyon and the future far off. But it's the far-off that can best help parents manage and evaluate the earliest years of their children's education.
I don't mean looking ahead to the usual goals of college or job, a view that causes parents to begin marching their young ones toward the perfect resumé before they can even walk. Instead, I suggest looking back, and from a different vantage-point – your child's wedding, or even their first try at parenthood. Such a lens brings values and behavior sharply into focus. And it takes us right back to the pails and trucks at work outside my window.
At Back to School Night this year, I'll ask the parents of these sandbox players to adopt this special lens to examine the young school year. From my pulpit, I'll start: "Dearly beloved. Imagine that we are gathered at a celebration of love, joy, and families uniting with their two young people who have decided to get hitched." I'll go on: "Imagine yourself standing at your child's wedding. The occasion is the grand commitment of one person to another: partnering, marrying."
Now we are looking out from the future.
Here is a benchmark beyond the customary entry to middle school, high school, or college; beyond career explorations. Your child is finding a soul mate. Is your sandbox now in fresh, sharp focus?
---