Early African-American workers in DC were more than silent witnesses
To understand America's past-to-present we would do well to recognize and know more about those African-Americans edited out of the nation's narratives – from my great-grandfather E.A. Savoy to Eugene Allen, the White House butler fictionalized in the film 'Lee Daniels' The Butler.'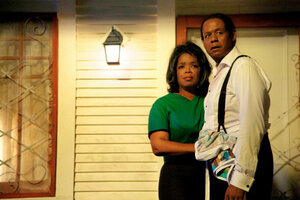 Anne Marie Fox/The Weinstein Company/AP
Yes, the butler did it. But not as others have written of "Lee Daniels' The Butler," which topped the box office for more than two weeks in August. The movie's fictionalized account was inspired by the life of Eugene Allen, the butler who worked 34 years in the White House, serving eight presidents from Harry Truman to Ronald Reagan.
The journalist who brought Allen's experiences to light, Washington Post reporter Wil Haygood, wrote that "[h]is is a story from the back pages of history. A figure in the tiniest of print. The man in the kitchen. He was there while America's racial history was being remade."
African-Americans have always been there, in those rooms of executive power. A few recorded their experiences. Alonzo Fields penned "My 21 Years in the White House" after retiring as chief butler in 1953. Lillian Rogers Parks's account of her family's five decades as domestic staff (1909 to 1960) led to the celebrated 1979 TV miniseries "Backstairs at the White House." Elizabeth Keckley described her time as Mary Todd Lincoln's dressmaker and confidante in "Behind the Scenes." Paul Jennings came to the White House in 1809 an enslaved servant; later, as a free man, he wrote "A Colored Man's Reminiscences of James Madison."
Most didn't write their lives. Public memory has largely forgotten them. "The Butler" prompts me to relate the story of one man who worked for 21 secretaries of state under 14 presidencies. A man whom Franklin Delano Roosevelt chauffeured to the White House for congratulations on his retirement at the age of 77, after one secretary of state had waived federal law and another, Henry Stimson, subverted it to keep him past the mandatory retirement age. A man whose life and contributions are little known today, yet whose story reveals the troubling ties between African-Americans and the nation's capital.
---