Gaddafi? Kaddafi? Qadhafi? How do you spell it?
(Read article summary)
Other variations include "Gadhafi," "Al-Gathafi," and "Kadafi," creating a mess for news organizations.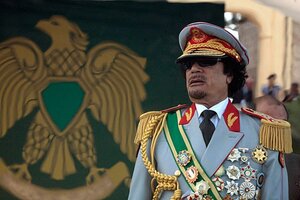 Zohra Bensemra/REUTERS
No newsmaker in recent memory has seen more versions of the spelling of his name than Libya's strongman, Colonel ... how do you spell it?
The US State Department goes with "Qadhafi." The Associated Press, CNN, and MSNBC spell it "Gadhafi." Reuters and the BBC opt for "Gaddafi." At the Los Angeles Times, it's "Kadafi," and the New York Times spells it "Qaddafi." For what it's worth, that last version is also the Monitor's preferred spelling (though, like other news outlets, we could be doing a better job of sticking to it consistently.)
---
Follow Stories Like This
Get the Monitor stories you care about delivered to your inbox.