Saying 'hi' is harder in a diverse society
(Read article summary)
Handshakes, hugs, and other forms of social contact mean different things to different cultures: Not every averted glance is an evasion, not every ungripped hand is a snub.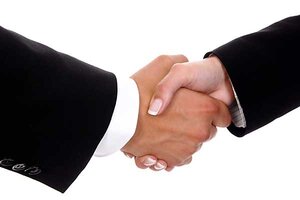 Newscom
It's a new year. Time to stick out your hand and say hi.
A firm handshake is supposed to say a lot. But what, and in what language?
Does firm mean sincere? A steel-clamp grip can seem intimidating. Or it may be the just-can't-help-it reflex of a big lunk's meaty paw.
Eye contact is similarly problematic. In the Old West, a steady look was supposed to indicate you were brave and true. Roy Rogers coupled an unblinking gaze with a determined squint. Thousands of young fans imitated him. Our recent Old West-loving president, George W. Bush, who would have watched Roy and Dale and Trigger as a boy, once said that he had looked into Vladimir Putin's eyes and seen his soul.
He might have. Or he might just have encountered the confident baby blues of a former KGB officer. A little eye fluttering, after all, can be reassuring, even charming – although some self-styled analysts say too much blinking can indicate lying.
Or embarrassment. Or dry eyes.
The point is that how we meet and greet and what it all means has always been problematic. The first handshake was extended by one Roman to another to show that he wasn't holding a dagger. That's better than the alternative but not exactly warm and fuzzy. Social kisses and pats on the back are supposed to show more than casual but less than intimate acquaintance. Proceed with caution. There's a microscopic tripwire when engaging in these greetings. Release too soon, and you seem like a cold fish. Peck too directly and you'll get a well-deserved slap.
I was raised in a warm but not necessarily huggy family. I recall admiring how my Latino pals did the manly abrazo with folks they knew. It seemed friendly and full-bodied. Soon my brothers and I were doing it all the time. Then not to do it seemed like a subtle insult.
From the 1960s onward, hugs were everywhere, along with a variety of cool new handshakes and of course the oh-so-Euro social kiss. It was a touchy-feely time. But mores rise and fall.
---