On Valentine's Day: You've been friended
(Read article summary)
Facebook and other social media are increasingly the way we form communities and communicate. Friending is fine, though it's like a second-grade valentine.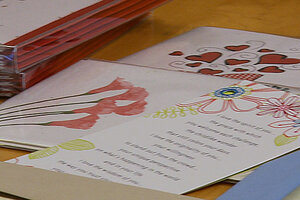 MCT/Newscom
The first time I was friended was Feb. 14, 1960.
Our second-grade class learned how to cut valentines out of red construction paper. We wrote notes on them, folded them, and gave our hearts to one another. Boy, girl, brainiac, cutie, cool kid, shy kid – everyone got one. And unless there was a budding Robert Browning in the class, the sentiments were as innocuous as the sayings on those sugary Sweetheart candies that magically appear this time of year: "Be my Valentine." "Your secret pal."
The next day, nothing had changed. Paper hearts have not been known to alter the clumsy dynamic of 7-year-olds trying to be friends. That takes a lifetime of laughter, embarrassment, and tears.
I've friended my share of people in the past half century. Often it was an old-school meet-and-greet in which business cards and empty pleasantries were exchanged. In recent years, I've signed up for Facebook, LinkedIn, Twitter, and assorted professional and old-pal groups that communicate via e-mail. I believe in social media and know that increasingly this is how we will form communities and stay in touch.
If nothing else, Facebook is an excellent address book. But, honestly, to friend someone digitally is the modern-day equivalent of the second-grade valentine. People whose lives intersect, if only briefly, send standardized invitations to one another. You accept. The next day, nothing has changed.
Power users are scrupulous about keeping friends and followers up to date via social media. This may include forwarding jokes, sharing political prejudices, and breathlessly commenting on sporting events or fabulous cannoli they just consumed. Good stuff.
---