Sports dynasties are impressive, but dark horses capture the imagination
(Read article summary)
Yankees, Blue Devils, Manchester United: A sports powerhouse is fun to watch. But motley crews of underdogs have a special place in our hearts.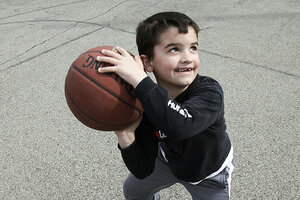 AP Photo/Charlie Neibergall
One of the most memorable experiences most people have is being part of a team. What often starts as a group of strangers eyeing one another warily can become a journey of mutual support that ends with a group hug.
While individual performance is inspirational, teamwork is where magic happens. Heroism, after all, is hard to clone.
Babe Ruth was a great player on the Boston Red Sox, but he was carrying a mediocre team. Traded to the New York Yankees, he anchored Murderer's Row with Lou Gehrig, Earle Combs, Bob Meusel, and other greats. The Yankees became a dynasty.
Execution and precision by a team like that is magnificent to behold. It is also a little scary. There's a fine line between success and domination, which for almost a century has made the Yankees both loved and hated.
The dream team for many people is the ad hoc, no-name crew. Even better if they are scruffy, have oddball nicknames, and a problem with authority. Best of all is if they pull out a miraculous win in the final seconds because of inspired teamwork. (Disclosure: Like many people who never made varsity, I have a special place in my heart for a motley crew, even if miraculous wins are vanishingly rare.)
---
Follow Stories Like This
Get the Monitor stories you care about delivered to your inbox.