Happy Earth Day: Apologies for the late thank-you card
(Read article summary)
We're marking the 40th anniversary of Earth Day. That's a little embarrassing considering our 4.5 billion-year-old planet has been so hospitable.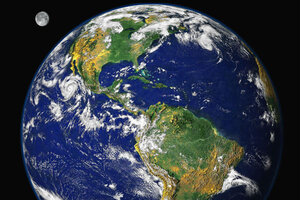 NASA/Reuters
The product rollout was done with little fanfare: a soft launch followed by an extremely long beta, even longer than the one for Google Gmail. We're actually still in beta, though everyone agrees the product is terrific.
And talk about green! It practically defined the term.
People can't get enough of Earth. It's a totally immersive experience and a platform for an impressive array of apps. Check out Art and Music. Their databases and functionality are way deeper than iTunes and YouTube. Spend some time with Cities, Forests, and Oceans, all in stunning 3-D. Wow. Into social networks? Families and Communities outclass Farmville, Facebook, and Second Life in terms of multiuser involvement.
In this critic's humble opinion, Earth is easily one of the Top 10 must-haves of the eon.
Earth Day commemorates our planet for good reason. Without our blue-green orb, life would be bleak. We're talking cold, airless, meteor-pocked bleak. Earth is our comfortable home in an unforgiving cosmos. It occupies the Goldilocks position in the solar system – not too far from the sun and not too close, protected from asteroids by Jupiter and Saturn. It's the perfect garden for biology.
Cherishing and protecting the home planet is the least we can do. (A Monitor special report on the use of carbon offsets indicates some of our methods are falling short.) Here's the embarrassing part, though: We've enjoyed Earth's hospitality for 4.5 billion years but have been celebrating its special day for only 40. Considering how long it's been around and how fond of it we are, that's woeful.
---