How an 'ugly American' can win the hearts and minds war
(Read article summary)
It is easy to criticize the misspending and poor execution of foreign aid in places like Afghanistan. Done right, however, foreign aid promotes self-reliance.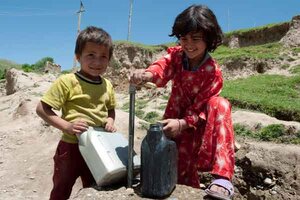 Monique Jaques / Special to the Christian Science Monitor
When you hear the term "the ugly American," you probably think of a loud, aggressive Yank smashing cultural china and leaving mud on the carpets of ancient civilizations. What may surprise you (unless you've dug out a battered copy of the book by the same name) is that the ugly American's namesake was probably the most exemplary American emissary in literature.
Homer Atkins stars in a couple of chapters of the 1958 novel by William Lederer and Eugene Burdick. He is "ugly" in that he is an engineer with dirty fingernails, calloused hands, and "the smell of the jungle about him." Contrast him with the diplomats and government officials in 1950s Southeast Asia who loved big, showy development projects – highways and hydroelectric dams – rarely traveled into the countryside, and always "smelled of aftershave lotion."
Homer Atkins understands the kind of hands-on assistance that makes things better. He devises a bicycle-powered water pump, finds a local partner, and changes the lives of farmers who have been lugging water up hills for generations. He acts locally and effectively. Long after Lederer and Burdick used Atkins as an example of the success of small and sensitive aid, we are still relearning the lesson.
---