Brand new thinking about government?
(Read article summary)
Every election -- and most of the days in between -- government takes a beating. But even if you believe that the public sector should butt out of the economy, you have to admit that roads, police, armies, and even the Internet can't happen without its involvement.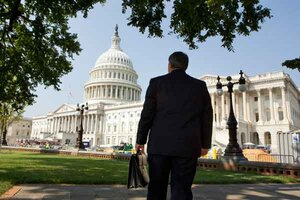 Melanie Stetson Freeman/staff
Sometimes a new name is just what an organization needs. The Computing Tabulating Recording Corporation was a yawner. As IBM, it became the gold standard in office equipment. How about BackRub? Sounds holistic and friendly. When it relaunched as Google, it tapped into an impressive, hypermathematical vibe. Same with Brad's Drink, which pharmacist Caleb Bradham of New Bern, N.C., concocted and later renamed Pepsi, making customers think not only young but about settling their stomachs.
Rebranding can also help when a company has so much baggage that it needs a new identity. ValuJet was a cheapo airline with a bad safety record. It remade itself as AirTran – nothing fancy, but it'll get you there. Phillip Morris morphed into Altria, which sounds more like a Mediterranean island or a high-end charity than a tobacco trafficker. The controversial security firm of Blackwater is now Xe. Inscrutable? Dangerous? Go figure.
Yet another approach is to go warm and fuzzy. Radio Shack decided it would just be The Shack. The fast-food purveyor behind Taco Bell, KFC, and Pizza Hut became Yum.
---