Energy's checkered past and elusive future
(Read article summary)
Every energy source is a Faustian bargain. We trade comfort and convenience for deforestation, soot, radioactive waste, oil spills. But perhaps the most unsettling resource we tapped to light our homes was the one that the petroleum age displaced: the slaughter of whales for their oil.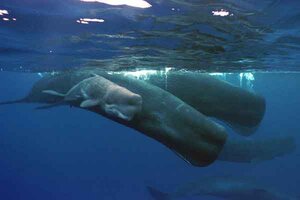 Chris Bangs/Guam Variety News/AP
New Bedford, Mass., was once like Houston, Texas, and Dhahran, Saudi Arabia. Known in its heyday as "the city that lit the world," New Bedford was one of the richest cities on earth.
Of all the energy sources we have employed over the millenniums – dung, wood, water, wind, coal, crude, uranium – the whale oil that New Bedford's refineries extracted was by far the most unsettling.
Even when there were no better alternatives to it, the great chronicler of whaling (and of the latent power of nature and the depths of human obsession), Herman Melville, felt queasy about the slaughter of cetaceans for their oil. To whalers, it was a dangerous but necessary way to make a living. But familiarity bred admiration. Encountering a leviathan in the middle of solitary seas, Melville wrote, you sometimes "find him unbent from the vast corpulence of his dignity, and kitten-like, he plays on the ocean as if it were a hearth." If you have ever encountered a playful pod during a whale-watching trip, you know how captivating that can be. Most consumers of whale oil, however, were oblivious to the source of light for their lamps and lubrication for their gears.
The discovery of petroleum in 1859 eventually saved the whales. But then came roads and cars, urban sprawl, smog, and environmental disasters such as the Exxon Valdez and the runaway BP well. Most days we ignore the trade-offs of the oil age, but every energy source is a Faustian bargain, comfort and convenience exchanged for deforestation, soot, carbon buildup, radioactive waste. Wind farms are noisy, dangerous to birds, and not exactly easy on the eyes. Even solar, which seems benign, will mean vast arrays of backyard collectors intercepting sunlight before it hits the plants.
---