WikiLeaks: A trivial gain, a profound loss
(Read article summary)
We know more about the world after the WikiLeaks dump. But because trust and confidentiality are essential in diplomacy, we'll soon know less.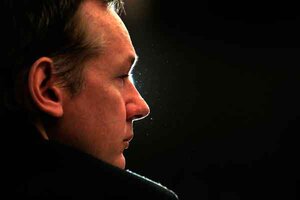 REUTERS/Luke MacGregor
Everybody knew about the gambling at Rick's Cafe Americain, which is why Captain Renault in the movie "Casablanca" was so facetiously shocked when he "discovered" it. Because of the publication of thousands of secret State Department cables by WikiLeaks, we now know a lot more about the world than we did a few weeks ago. But the only shock is how much diplomats' view of the world conforms with what journalists have been writing about and you have been reading about all these years.
WikiLeaks has not stood conventional wisdom on its head. So far, there's been no evidence that the public was being deceived or defrauded by the US State Department or that democracy was being subverted. We've learned some gossipy bits (Muammar Qaddafi has eccentricities? Vladimir Putin is an "alpha dog"? Silvio Berlusconi burns the candle at both ends? Gosh!). We've learned what we'd expected (the Saudis are worried about Iran, and even the Chinese see North Korea as a "spoiled child").
---