Santa Claus? Yes and no, Virginia.
(Read article summary)
More than a century ago Francis Pharcellus Church, an editor at the old New York Sun, answered young Virginia O'Hanlon's question about Santa Claus. Wonder what he'd say today?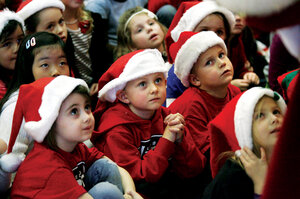 Newscom
Dear Editor: I am 8 years old. Some of my little friends say there is no Santa Claus. Papa says, "If you see it in The Sun it's so." Please tell me the truth; is there a Santa Claus?
– Virginia O'Hanlon, writing to the New York Sun, 1897
Virginia, your little friends are affected by the skepticism of a skeptical age. But your dad – whoa. Doesn't he listen to talk radio or follow the blogs, tweets, or Facebook feeds of presidential hopefuls and reality-show celebrities? Hasn't he heard of the "lamestream media"?
I'm as proud of my profession as any other handsomely compensated editor, but Papa might remember that the old New York Sun is the newspaper that in 1835 published what is known as "The Great Moon Hoax,"a six-part series that described astronomical observations of life on the moon. It was a fabulous tale – walking beavers, bat-winged humanoids, amphitheaters made of ruby. The reports by "Dr. Andrew Grant" were great for circulation. Credibility? Not so much, beginning with Dr. Grant, who, uh, didn't exist. Let's just say that if Papa sees a story in the Sun (the 19th-century version, not the Web-only 21st century version) he might want to check it out on Snopes.com or Factcheck.org.
---