The Samaritan's dilemma: How best to help after a natural disaster?
(Read article summary)
Our humanity prompts us to rush assistance to victims after a disaster like the Haiti earthquake. But assistance can sometimes trigger a whole new set of problems.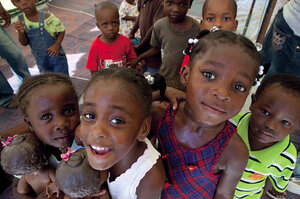 Melanie Stetson Freeman/Staff
There are harder decisions that we make, but few are as heartbreaking as the one called the "Samaritan's dilemma." You face it every time you encounter a panhandler on the street. Are you creating a dependency or meeting an urgent need, paying for a hot meal or cheap rum? People who say there's an easy answer are failing to listen either to their head or their heart.

Ten thousand variations on the Samaritan's dilemma occur every minute across the planet. Does extending unemployment benefits create an incentive not to work, or is it the humane thing to do in a no-growth job market? Do shipments of food aid from one side of the world wreck farm economies on the other? If I boost Junior's allowance, will he learn to save or just blow the money on video games?

The impulse to help is especially acute when a natural disaster strikes. Millions of us are moved by images of suffering – the buckled buildings, orphaned children, weeping mothers. There but for the grace of God, we think. Charitable donations pour in. Well-meaning people offer their services. May it ever be so.

But then a whole series of secondary problems arise. In a Monitor special report, Ezra Fieser and Sara Miller Llana explore the complexities surrounding disaster relief, focusing on Haiti, which is still struggling with basic needs a year after an earthquake devastated it. Ezra and Sara introduce you to relief workers like Emmett Fitzgerald, who travel the globe "with not much more than a few suitcases of belongings and a big heart, landing in broken or violent or dysfunctional nations."
---