Where is retirement headed? The story differs with each retiree.
(Read article summary)
Modern retirement is only entering its second generation. But as Baby Boom workers clock out for the last time, expect the word "retiree" to be redefined.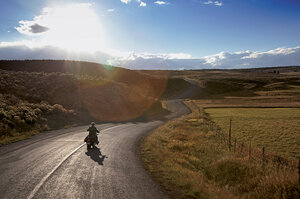 Getty Images/File
Once upon a time, people worked all their lives. Then retirement was invented.
The idea of retiring had always been around. The rich would doff their periwigs at the end of an illustrious career and be chauffeured to their country estates to enjoy their sunset years. But most people kept plugging away.
Retirement was a dream that, if it came true at all, did so only for a few years for a few people. No one could have imagined the huge industry it has become, complete with age-appropriate communities, yoga groups, early-bird specials, and more than $2 trillion in 401(k)s.
Modern middle-class retirement owes its origin to the German Emperor William I, a forward-thinking royal who saw how grim life was for older workers in his realm. In the mid-1880s, William told the German parliament that "those who are disabled from work by age and invalidity have a well-grounded claim to care from the state." A few years later, Chancellor Otto von Bismarck signed into law the world's first social security act – a move of both compassion and politics since it also tamped down rising socialist sentiments in Germany.
---