Compromise isn't pretty -- but it's the way politics works
(Read article summary)
From the Middle East to the Ivy League, the practice of politics is about striking a balance between principle and practicality.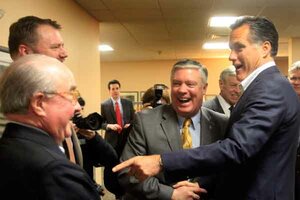 AP Photo/Jim Cole
Politics involves tradeoffs between principle and practicality. You can see evidence of that today in news stories from all over the world.
In Libya, the principle that regime opponents are fighting for is democracy. But Libyan strongman Muammar Qaddafi has enough firepower that it may be necessary to arrange a compromise -- however distasteful it may seem -- to spare Libya from civil war.
Next-door in Egypt, protesters who ousted Hosni Mubarak are not content to return to business as usual (the practical approach) without making sure that the security police and other elements the old regime don't reemerge. Much as Egyptians need to be resuming normal life -- sending their children to school, working at their jobs, welcoming tourists to the nation's storied antiquities -- opposition leaders are wary of allowing the old power structure to reassert itself.
---