Was the world sweeter before 9/11?
(Read article summary)
From airport security to overseas wars, the world changed dramatically as a result of 9/11. That doesn't mean it was better before.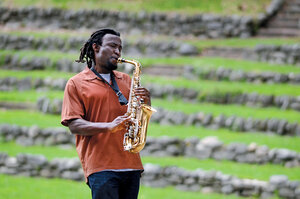 Peter Chen/The Post-Standard/AP
The spring of 2001 was perhaps the most glorious ever, a golden time of sunshine and innocence, a time before the world changed forever ...
That's the way many a remembrance begins. The lost world is always sweeter than this one, the music is always better, the laughter more joyful. Think about Margaret Mitchell's antebellum South, Ernest Hemingway's Paris in the 1920s, and the epoch between the wars in almost everything Evelyn Waugh wrote.
Nostalgia is a powerful illusion. Looking back, events seem more certain than when we lived through them, which makes life back then seem more comforting.
Everybody older than 15 on the East Coast of the United States remembers what a clear, blue morning Sept. 11, 2001, was and what was lost on that awful day – the horror of the attack; the uncertainty and worry; the grieving; the major reordering of national and homeland security; the wars that followed; the bitter debates over Abu Ghraib, Guantánamo, and torture. The first decade of the 21st century also gave us a scary financial crisis followed by an unprecedented debt burden.
---