Finding a way to live with wolves
(Read article summary)
David Mech has studied Canus lupus since the 1950s, beginning in the unique natural laboratory of Isle Royale. He knows there's trouble when they collide with human habitats.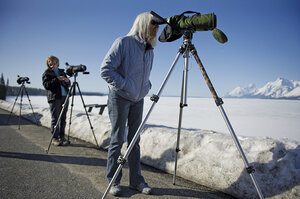 Ann Hermes/Staff
As a graduate student in the late 1950s, L. David Mech began studying the wolves of Isle Royale. He couldn't have asked for a more perfect laboratory.
The island is 28 miles from the shore of Lake Superior. It has been touched lightly by humans over the centuries. Biologists believe that moose, which are incredible swimmers, made their way to the well-vegetated island sometime in the early 20th century.
Undisturbed by predators, they thrived until a pair of wolves crossed the ice pack during the harsh winter of 1949. That set in motion a back-and-forth relationship between predator and prey that is considered unique in all the world.
Dr. Mech first described the relationship in his 1966 book, "The Wolves of Isle Royale." Published in the early days of the environmental movement, the groundbreaking work provides fascinating insights into the role food, weather, pests, and genetic diversity play in the balance of nature. The wolf population waxes and wanes. Alpha males rise and fall. The moose herd flourishes, depletes its resources, crashes, recovers.
Having studied wolves for six decades, Mech is the first to admit that Isle Royale is not the real world. It is the perfect laboratory, a naturally occurring isolation chamber for biological study. "I knew even as I was studying the wolves and moose that I had to go elsewhere," he says, "that what I was learning didn't apply anyplace but the island."
His research has taken him from Sweden to Israel, India to the high Arctic. He founded the International Wolf Center in Ely, Minn., and is a professor at the University of Minnesota. If there is one big take-away from the generations of Canis lupuses he has known, it is that they are not magical beings.
---