The beauty of strong girls
When self-expression gives way to self-doubt, a little support can help.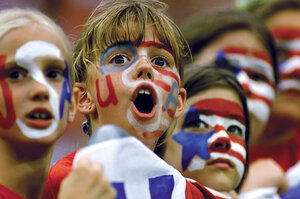 Reuters
A little girl's style can be something to behold: hair gloriously awry, a tutu over pajama pants tucked into rain boots. Rumpled jacket. Light-up ring. Maybe some butterfly wings from an old costume, brushing the soup cans in the grocery store aisle. It's a cockeyed couture hatched by a happily confident being.
She might smile from beneath this get-up – or she might storm around, a furious pixie (a piece of advice in that case: Do not chuckle at the incongruity).
She owns her look. And it reflects the purest of attitudes: a fierce expressionism.
Then come the tween and early teen years. Self-doubt creeps in. Brands begin to matter – a lot. Even a quick run to CVS means first getting the look just right. The time before the school bus arrives can seem like the prep session before the prom, like being backstage at a Broadway show. Where are my new jeans!? The ponytail swings like a whip.
It may all seem like an ambush; what can a good parent do? Find one set of tips in 'Rethinking Your Approach to Girls'. Experience also teaches that it's a pretty nuanced play: Don't react. Calmly offer perspective. Accommodate, without letting yourself be run over or demeaned, because that's really not her intent.
Above all, remind yourself that what she's up against should not be taken lightly. As Stephanie Hanes reports this week, a very fast, adultcentric society is in some ways at war with today's kids.
---