Mexico's other challenge: to burnish its brand
Can Mexico help the world see past its escalating drug war, and showcase all that it offers?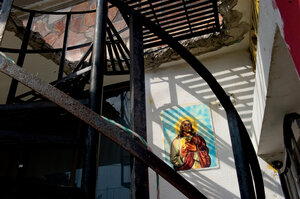 Alfredo Sosa/Staff
To say that Mexico has a big branding problem might sound pretty flip. What America's southern neighbor faces is nothing that a smirking Don Draper type could spin: Its drug war has taken 40,000 lives in the past five years. Ciudad Juárez has become the world's murder capital. That's sort of like having Mogadishu, Somalia, just across the river from El Paso, Texas.
Of course, Mexico's other faces include Cabo San Lucas, the playground of Baja California. There's Cancún and Cozumel, white-sand magnets for spring breakers and divers. Mayan ruins. Luminous folk art. Cuisine.
Perceptions matter, whether from outside or within. They affect how a nation fares economically – tourism, business relations – and its political standing. On some level they might even help determine how much help is offered by outsiders in realms ranging from finance to security.
News last year of the killing of an American jet-skier – by Mexican drug traffickers, perhaps – on border-straddling Falcon Lake got Americans' attention. Now come reports that potent "black tar" heroin from Mexico is creeping into eastern US states. And 17 tons of marijuana were recently found in a border tunnel.
---