A handshake shakes a region
Turkey's warming with Armenia stirs up ethnic and energy issues in the strategic Caucasus.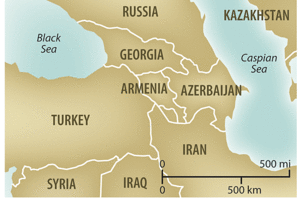 Rich Clabaugh/Staff
Make one move in the unstable Caucasus region, and a host of difficult and far-reaching issues get tripped over – ethnic tensions, Russian dominance, and competition over oil and gas.
So the world discovered when Russia's military clashed with tiny Georgia's last August. And so it's discovering again under far more welcome circumstances: a long-awaited warming between Turkey and its Caucasus neighbor, Armenia.
Yes, even such rapprochement can stir up this region, sandwiched between the Black and Caspian seas and bordered by Russia to the north and Turkey and Iran to the south.
Over the past few weeks, energy-rich Azerbaijan has turned up the flame under this geographic cauldron. It was furious with Turkey for agreeing in April to a "road map" to normal relations with Armenia, which backs a separatist Armenian enclave within Azerbaijan called Nagorno-Karabakh. The area was the site of a bloody war in the early 1990s after the Soviet empire broke up, and has since become the oldest "frozen conflict" in the south Caucasus. Armenia-supported separatists hold additional Azeri territory outside the enclave.
So Azerbaijan has used the only leverage it has – oil and gas – to influence Turkey. It's an influence that extends even to European energy goals.
---