Marijuana legalization? A White House rebuttal, finally
White House 'drug czar' Gil Kerlikowske lays out his most thorough arguments yet against marijuana legalization. They help clear up confusion over White House drug policy, and can serve as talking points for parents and officials.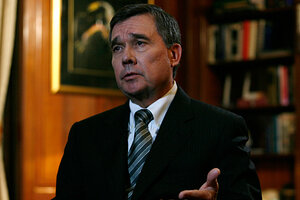 John Vizcaino/REUTERS/File
The Obama White House has finally laid out its most thorough, reasoned rebuttal to arguments for marijuana legalization – countering a campaign that is gaining alarming momentum at the state level.
The president's tough position was delivered in early March by his "drug czar," Gil Kerlikowske, in a private talk before police chiefs in California – which is ground zero for this debate.
"Marijuana legalization – for any purpose – is a nonstarter in the Obama administration," said Mr. Kerlikowske, a former police chief himself.
It's almost certain that California voters will be asked in a November ballot initiative whether to allow local governments to regulate and tax marijuana (similar to taxes on sales of alcohol). Other states are considering similar proposals, which are really a backdoor way to legalize pot.
(For a Monitor news story on the California ballot initiative, click here)
Thirteen states have decriminalized the use or possession of small amounts of marijuana, which is not the same as legalizing it. Selling it is still illegal except in states where it is used for medical purposes. And under federal law, any sort of marijuana use or sale is a criminal offense.
The drug czar's remarks are worth notice for two reasons. First, they provide needed talking points for those who oppose legalization but who can't seem to make their message resonate in the face of a well-financed, well-organized pro-marijuana effort. Second, they help clear up confusion about the White House policy on legalization.
---
Follow Stories Like This
Get the Monitor stories you care about delivered to your inbox.