A new Kim in North Korea requires even more US deterrence
After the death of Kim Jong-il, his son, Kim Jong-un, is too weak to rule. That could cause North Korea to provoke conflict. Obama must renew America's defense of South Korea.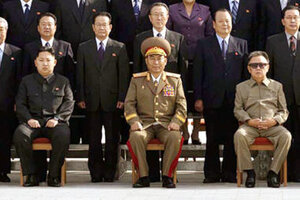 Kyodo/Newscom
The world has tired of quirky tyrants with big weapons and records of foreign savagery. North Korea has had two, a father and son, who ruled for almost seven decades. This week a new heir took power. His very weakness, however, is forcing the world to once again put up its guard.
Kim Jong-un is under 30, little prepared to govern, and yet he has a finger on a nuclear trigger. His father, Kim Jong-il, who died on Saturday, left behind an economy so fragile that many North Koreans are starving. The center cannot hold too much longer.
Similar conditions of weakness pushed the Kim dynasty in the past to provoke conflict as a way to tighten its grip and gain concessions from the United States or South Korea. If that pattern of lashing out continues, the US and its allies must maintain the same patience, restraint, and strength that has successfully bottled up a volatile North Korea since the end of the Korean War in 1953.
Just as steely deterrence won the cold war, Americans cannot let North Korea make good on threats against South Korea or export nuclear and missile technology. But neither can the US use military means for regime change, as it did in Afghanistan, Iraq, and Libya over the past decade.
---