How to react to an explosion of negative political ads
New Gingrich and Mitt Romney are in a hot dispute over negatives ads in Iowa run by a super PAC. Voters should join in that debate on campaign-finance reform.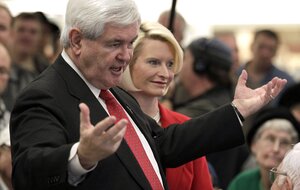 AP Photo/Charlie Riedel
Candidate-bashing advertising has already started in the 2012 election campaign – from the presidential race on down. In the Republican contest for the Jan. 3 Iowa caucuses, negative ads are already a hot issue in their own right.
As they should be. By next fall, more than $1 billion could easily be spent on all types of campaign ads, with many of them slams at opponents.
Campaign ads in 2012 will probably be more plentiful than at anytime in the past. Recent court decisions allow unlimited ad spending by "super" political action committees (PACs) that are supposedly run independently of a candidate but in support of her or him. Often, however, a super PAC is simply managed by a candidate's former staff who already know the campaign strategy – thus barely skirting the rules on independence.
Attempts to rein in the influence of money on politics have a long history. Each new fix, many of them in recent decades, has helped. But often powerful interests find loopholes or hide behind obscure groups in order to guarantee that they can influence a lawmaker or president.
Now reformers are aiming at the explosion of super PACS. Their task won't be easy. Many incumbents in Congress see an advantage in keeping the current system, even though they have to spend 30 to 70 percent of their time in fundraising.
Any change in campaign-finance laws will require that voters rebel at the proliferation of super PACs, and especially negative ads. Voters need to wake up to an unspoken premise in such advertising – that Americans haven't done their homework on issues and candidates.
Candidates know that most voters simply glean tidbits of information from brief TV and radio commercials, often accepting the half-truths or outright falsehoods.
---