Obama's new tax on the poor: Internet gambling by states
The Obama Justice Department quietly issued a legal opinion – just before a long Christmas weekend – that allows states to set up nonsports Internet gambling. The opinion upends decades of contrary decisions, but its real effect will be on the poor (and young) who suffer the most from gambling.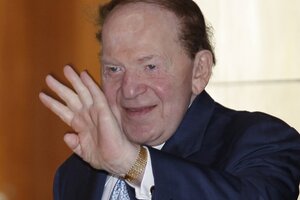 AP Photo / Vincent Yu / file photo
A campaign by powerful gaming interests to legalize online gambling in America has won a crucial victory from the Obama administration. On Friday, the Justice Department issued a legal opinion that allows states to authorize Web-based, nonsports gambling within their borders.
The 13-page memo opens a door to a host of problems.
For one, big doubts remain over whether states can indeed restrain such digital games of chance to residents while also keeping children from playing them. State lotteries, for examples, have a poor record of preventing retailers from selling tickets to minors.
And even if states can outsmart tech-savvy teens or out-of-state gamblers, once enough states jump into Internet gambling they will likely be able to work together and create a national scheme for such activity. That would violate the spirit if not the letter of a 2006 federal law banning such interstate activity.
Most of all, bringing Internet gambling to America would hurt the poor, who are most affected when people lose money in government-approved games of chance such as state lotteries or casinos – not to mention the way it would reinforce a belief that one's future depends on "luck" instead of individual merit.
In effect, President Obama and his appointed Justice officials have bowed to political pressure from states that seek a new source of revenue in Internet gambling rather than taking the difficult decisions to raise taxes or cut spending.
The timing of the memo's release is telling about its politics. It was dated last September but was quietly made public just before the long Christmas weekend, perhaps to prevent political waves. And it came a day after Nevada officials approved in-state online gaming.
---