Women on the front lines of faith vs. state
As recent events in Israel and Egypt show, religious norms that treat women differently or as inferior can irritate those who want fair, secular rule. And Hillary Clinton tries to define a fine line between faith-based bias and human rights.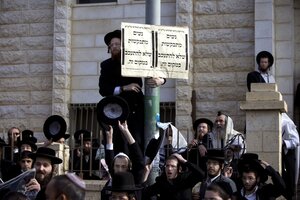 AP Photo/Oded Balilty
When ultra-Orthodox Jews in Israel recently put up signs telling women not to walk past their synagogues, the reaction was swift. Government workers took down the signs and Israel's leaders denounced the public discrimination.
In Egypt, too, strict Islamic norms that treat women differently in public circumstances or as strictly sexual beings are also under challenge. On Tuesday, a court faulted the military for forcing "virginity tests" on women arrested during protests. The physical exams, done ostensibly to prevent the Army from being accused of rape, violated the women's rights, a judge declared.
In many countries, discrimination or special treatment of women under religious conventions is often condoned, or even sanctioned, as long it stays within the bounds of a religious institution or in the homes of the faithful. Many Christian churches in America, for example, bar women from being pastors, elders, or priests with no government interference.
But when such gender bias slips into the public sphere or violates the norms of secular rule, a clash can occur that is often difficult to resolve. Many states in the American West are still coping with enforcement of antipolygamy laws against splinter Mormon groups. Such laws are meant to protect women, even though hundreds of women violate those laws in the name of faith.
Last week, Secretary of State Hillary Rodham Clinton acknowledged the difficulty of challenging religious-backed cultural norms in other countries.
She was launching an "action plan" to protect women in conflict zones and promote them as peacemakers. But, she admitted, the United States must be sensitive to differences in cultural norms and "the legitimate concerns that people have about protecting what they value in their own societies."
---