Arabs, like others, don't buy into abuse of historic grievances
The Arab Spring reflects a trend away from people accepting leaders who try to exploit the ancient wrongs of other countries for their own political or violent ends.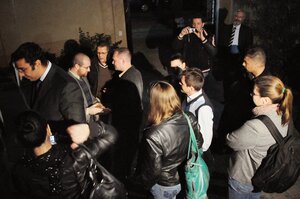 AP/Mohammed Asad
One welcome surprise of the Arab Spring is how young protesters have not bought into a big lie. From Libya to Syria, they have obviously rejected a claim by crumbling dictators that the West is behind the uprisings.
It's an old narrative – that Arabs are victims of foreign hands, still being humiliated by big non-Muslim powers as in the 19th and 20th century. While much of that history is true, today's Arabs simply want to focus on gaining rights, freedom, and dignity.
Their willingness to ignore historic grievances may represent a global shift away from the common misuse of history by leaders for political or even violent ends. The old "Muslim rage" that once drove Arabs to support dictators or groups like Al Qaeda can't compete with the lure of democracy and prosperity.
Another reason may be that the world has generally moved away from giant wars and other wholesale abuses that left deep emotional scars on entire peoples, from Jews to Armenians to Chinese. More countries are democratic, eager to trade not fight. Modern weapons give pause to their easy use. More countries follow international norms.
To be sure, such a shift isn't easy. Palestinians and Israelis especially suffer from a mutual narrative of historic victimhood.
In South Korea, leaders are still struggling over how to let go of the sordid legacy of Japan's 35-year occupation. Last month, President Lee Myung-bak asked Japan to resolve the grievances of elderly Korean women who were forced to work as sex slaves for Japanese soldiers during World War II. Japan contends it officially settled up with South Korea on its war past in 1965. Lee had to admit that "the past should not be a stumbling block on the way to the future."
---