God save the queen – and society – at lunch
In America and Britain, ideas to integrate a diverse society are being touted and tested. One idea is a 'big lunch' of neighbors for Queen Elizabeth's diamond jubilee. But can government enhance social cohesion?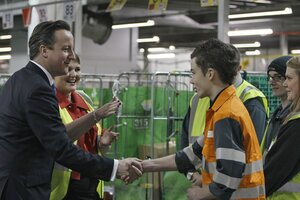 Alastair Grant Pool/AP Photo
People living in highly diverse countries often look to government to mend the rips and tears of their social fabric. In 2008, Barack Obama promised to bring Americans closer together. In 2012, Rick Santorum is the lead proponent for restoring social cohesion, starting with the family.
And then there is the British experiment to create an "integrated" society based on shared common values.
The best example is an event planned for June 3. Millions of people are expected to sit down with neighbors for a lunch in street parties across Britain. Breaking bread together, it is hoped, will break down social barriers between people, reducing crime, racism, and religious extremism.
And maybe, just maybe, the English street riots of 2011 won't be repeated. And alienated Muslims won't become home-grown terrorists.
The idea for this nationwide "Big Lunch" was started in 2009 by a private group, the Eden Project. Last year, more than 2 million of Britain's 61 million people took part. This year, the event could ballon. It happens to fall on the same day as the celebration of Queen Elizabeth's 60 years on the throne. Her Majesty has heartily endorsed the local community-building as a way to mark this diamond jubilee.
---