War talk on Iran forces the issue: Is Israel a formal US ally?
Obama and Netanyahu can't agree on a threshold for attacking Iran if they also lack clarity on whether the US and Israel are formal allies. Will Israel abandon its strategy of defense self-reliance?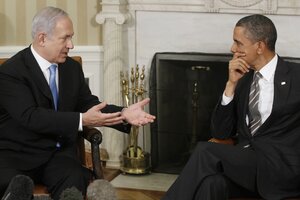 Charles Dharapak/AP Photo
According to polls, Americans remain wary of supporting the idea of either Israel or the United States – or both together – attacking Iran's nuclear facilities.
Perhaps one reason for this hesitancy is the fact that Israel, in a historic choice to rely on itself for defense, has never become an official US ally.
America has no treaty obligation to come to Israel's defense as it does with many countries in Europe and Asia. This little-known fact may loom large in a meeting Monday between President Obama and Israeli Prime Minister Benjamin Netanyahu.
The two men have long differed on how to deal with Iran, especially as a preemptive attack raises more difficult questions than for a traditional war raises. A lack of a formal Israeli-US defense alliance makes it difficult to reconcile their current differences, despite the long friendship and close military cooperation between the two countries.
The Israeli leader, who enjoys wide popularity in the US, has been pressing Mr. Obama to openly threaten Iran with a military strike. And he wants the US to accept Israel's lower threshold for launching an attack, which would be at the point of Iran simply developing a capability to make an atomic bomb. The pro-Israel lobby in Congress, too, is pushing a bill that would endorse this Israeli view.
---