After guilty verdict for warlord Lubanga, will Kony be captured in 2012?
World interest in the 'Kony 2012' video that focuses on child soldiers of the Lords Resistance Army comes just as the International Criminal Court finds another African warlord guilty of conscripting children to kill.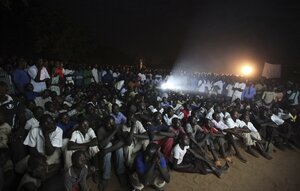 James Akena/REUTERS
Justice often comes in baby steps and that was clearly the case Wednesday when the International Criminal Court (ICC) at The Hague handed down its first verdict – against African warlord Thomas Lubanga.
Ten years after the ICC was created, a three-judge panel found Mr. Lubanga guilty of forcing children to fight in the 1998-2003 conflicts in the Democratic Republic of Congo. Despite the many flaws in its process, the ICC was still able to set an important precedent – one that could extend to notorious Ugandan warlord Joseph Kony, who is still at large.
For the first time, a global legal body went beyond mere words and took action to enforce the ideal that the inherent innocence of children is so precious as to bring punishment on someone who had conscripted them to kill.
The court's affirmation of this humane standard – likely to result in a life sentence for the Congolese warlord – was well timed. Since March 5, more than 80 million people, many of them teenagers, have watched the "Kony 2012" video on the Internet about the Ugandan leader of the Lord's Resistance Army (LRA).
---