Army on trial too as Sgt. Robert Bales faces charges for Afghanistan shootings
Army Staff Sgt. Robert Bales was charged Friday for the Afghanistan shootings, but Congress must also probe the Pentagon over the way it screens soldiers sent back to war after an injury.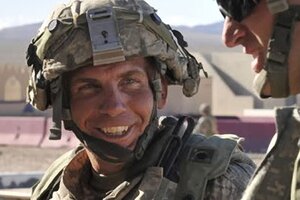 Spc. Ryan Hallock/DVIDS/AP PHOTO/File
Staff Sgt. Robert Bales, the soldier suspected in the most violent shooting rampage against civilians in the Afghanistan war, has now been charged with 17 counts of murder. As more is learned about his background and the events of March 11, much of the media has focused on one question: Why?
Why did an infantryman on his fourth tour of duty and described as a "model soldier" and affectionate father allegedly leave his base and murder Afghan families while they slept?
Bales's attorney says his client was not ready to return to combat because of past injuries and remaining emotional trauma, and that the Pentagon must bear some responsibility.
MONITOR'S VIEW: Lessons from the Afghanistan shooting
Indeed, that is the question to be asked outside Bales's coming trial: Who in the Army should be held accountable in order to ensure that soldiers with impulsive violent tendencies are not sent to war zones? The future of America's role in Afghanistan depends on it.
It goes without saying that Bales must now face a trial. But those in the US government and military who overlooked the warning signs and deployed a potentially at-risk soldier should bear some sort of culpability.
Two million soldiers have served in Iraq or Afghanistan and about 800,000 have completed multiple deployments. Among those soldiers who've seen combat, a Pew survey found that 49 percent say they suffered from post-traumatic stress. And last year, the military diagnosed more than 30,000 cases of traumatic brain injury.
"It's surprising this kind of thing hasn't happened before, given the amount of time we've been in Iraq and Afghanistan," says Michael Waddington, a lawyer for service members accused of violent crimes.
---