Connecticut's wise move against the death penalty
A key vote in Connecticut against the death penalty means the state will likely join 16 other states in ending this harsh sentence. Practical reasons were cited for the move, but moral ones need to be argued to end capital punishment in the US.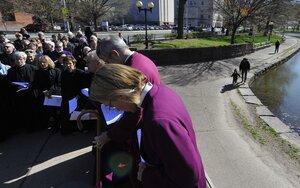 Jessica Hill/AP Photo
After a vote in its Senate on Thursday, Connecticut is set to end the death penalty, although those currently on death row will still face execution. The state would become the 17th state to do so, adding momentum to a welcome movement to end capital punishment in the United States.
Since 2007, the death penalty has been abolished in four states (New Jersey, New Mexico, New York, and Illinois). In November, California voters will be asked in a ballot measure to end state executions. Even in states that still allow the practice, the number of state-sanctioned killings has dropped by about half since 1999.
The death penalty debate in Hartford has been useful to understand why more states are questioning the practice. Practical concerns about implementing capital punishment have become more common, such as the high number of death-row inmates in the US found to be innocent over the past decade. Ultimately, however, the issue still remains a moral one about society's need to embrace the sanctity of life.
---