What next for JPMorgan Chase and Jamie Dimon after $2 billion loss
The JPMorgan Chase $2 billion loss again shows why big banks pose a big risk – as seen in the admission of mismanagement by Jamie Dimon. The selfless purpose of a financial system in the economy must override the selfish risks of giantness in banks.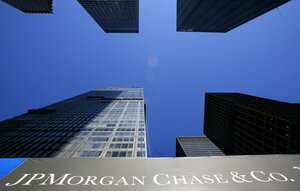 Mark Lennihan/AP Photo/file
Big banks carry a special burden, one made clear again by JPMorgan Chase's whopping $2 billion loss in a trade gone bad.
If big banks fail, they can bring down an entire financial system. That was the lesson from the 2008 Wall Street crisis. American taxpayers were forced to come to the rescue of financial titans who couldn't manage their own giant, complex, and risk-taking enterprises.
An inherent tension resides in big banks – more so than in smaller financial institutions. While they operate on self-interest in maximizing profits for shareholders, their very size requires they also be selfless in not rattling America's market economy with spectacular failure.
This selfish-selfless paradox lies at the heart of what went wrong at JPMorgan Chase, the largest bank in the United States. The bank forgot its special burden by pursuing a "hedge trade" that its chief executive, Jamie Dimon, now admits was "flawed, complex, poorly reviewed, poorly executed and poorly monitored." His own bank is still too big for him or other top executives to be "minding the store." After the 2008 crisis, Congress considered and rejected a proposal to put a cap on the size of banks. Wall Street's lobbying arm and its hefty campaign donations prevented that. The reform that did pass, the Dodd–Frank Wall Street Reform and Consumer Protection Act, mainly attempts to have federal regulators try to outguess the banks in the level of risk they take on.
---